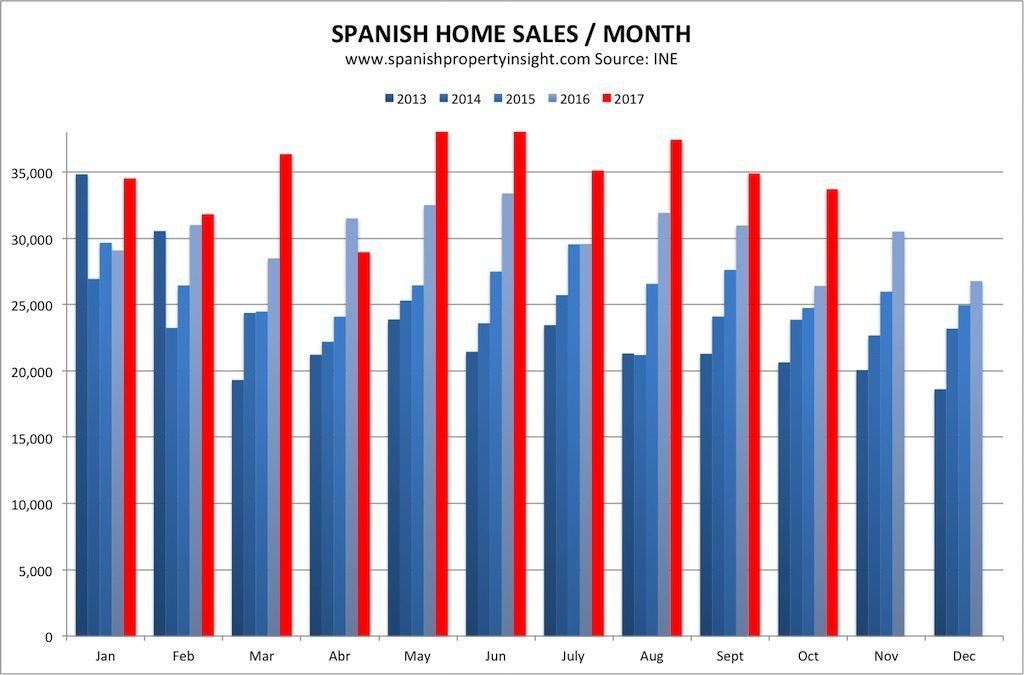 Spanish home sales inscribed in the Land Registry were up by 28% in October, one of the biggest increases in sales since the recovery began.
There were 33,727 Spanish home sales inscribed in the Land Register in October, and 37,228 if you include homes subsidised by the Government, known as VPO. Compared to the same month last year, Spanish home sales were up by 28% (excluding VPO, 27% including), all according to the latest figures from the National Institute of Statistics (INE).
Bear in mind these figures are based on sales inscribed in the Land Register, not sales completed in the month. Sales inscribed in October were actually completed in August and September, or even before, so these figures lag the market by a few months.
New and resale property transactions
Home sales in October were divided between first-time sales / new homes with a market share of 19% (6,943) and resales with a market share of 81% (30,285).
Sales of both new and resale homes increase in October, with new home sales up 30%, and resales up 26%. New home sales have now increased for six consecutive months representing the first period of sustained growth in new home sales in more than a decade.
Spanish Home Sales by Region – October 2017
Looking at the evolution of sales by region, 2017 has been a good year for most areas of interest to foreign buyers and investors.
Year to date, sales are up by double digits in most areas, and only down in the Andalusian province of Almeria. In the year-to-date figures (first ten months of the year), sales growth was particularly strong in Madrid and Catalonia.
However, if you look at the change in sales inscribed in October alone, the picture is more complex.
Figures were up by a massive 61% in the Madrid region, but in Catalonia – where a looming constitutional crisis may have undermined confidence – sales growth was well below the national average, and dramatically lower than the figures Catalonia was posting in the first half of the year. The Catalan independence movement is clearly having a negative impact on the regional housing market in terms of lost sales.